Questa settimana mi accompagna la fissa per i numeri.. E visto che questo è il secondo appuntamento con la rubrica direi che la colonna portante questa settimana sarà..
Il numero due
!
Le due torri - J.R.R. Tolkien
In questo secondo romanzo della trilogia di Tolkien, gli amici della Compagnia dell'Anello lottano separati. Merry e Pipino sono fatti prigionieri dalle forze del Male, ma riescono a fuggire e trovano soccorso in uno strano mondo di esseri giganteschi, mezzo vegetali e mezzo umani. Aragorn, un enigmatico personaggio che si era unito alla Compagnia all'inizio dell'impresa, stringe alleanza con i guerrieri di Rohan, un popolo fiero che per secoli ha resistito all'assalto delle tenebre. Frattanto Frodo e il devoto Sam si imbattono in Gollum, un viscido essere che era stato l'antico possessore dell'Anello, e lo costringono, recalcitrante, a condurli verso Monte Fato. Ma spaventose creature li attendono al varco...
Due di troppo - Janet Evanovich


Irresistibile, magnetica, divertente, Stephanie Plum, l'investigatrice più sexy e simpatica del mondo, torna con la sua seconda avventura. Questa volta è alle prese con un caso di omicidio. Ma col suo straordinario fiuto per i guai, le cose in breve si complicano tremendamente, suo malgrado. Tanto più quando, nel corso delle indagini, si imbatte niente meno che in Joe Morelli, poliziotto dal discutibile passato e dalla libido costantemente su di giri, con la cattiva abitudine di immischiarsi negli affari di Stephanie. Anche se in questo caso viene il dubbio che sia lei a finirgli tra i piedi, rendendogli il lavoro difficile e dando alla sua vita quel brivido in più, che certo non gli mancava. Non è professionale, ma è molto convinta, non è bella però è sexy, più che coraggiosa è assolutamente incosciente: Stephanie Plum è un'antieroina a cui ci si affeziona da subito
The two princesses of Bamarre - Gail Carson Levine
Twelve-year-old Addie admires her older sister Meryl, who aspires to rid the kingdom of Bamarre of gryphons, specters, and ogres. Addie, on the other hand, is fearful even of spiders and depends on Meryl for courage and protection. Waving her sword Bloodbiter, the older girl declaims in the garden from the heroic epic of Drualt to a thrilled audience of Addie, their governess, and the young sorcerer Rhys. But when Meryl falls ill with the dreaded Gray Death, Addie must gather her courage and set off alone on a quest to find the cure and save her beloved sister. Addie takes the seven-league boots and magic spyglass left to her by her mother and the enchanted tablecloth and cloak given to her by Rhys—along with a shy declaration of his love. She prevails in encounters with tricky specters (spiders too) and outwits a wickedly personable dragon in adventures touched with romance and a bittersweet ending.
Two little girls in blue - Mary Higgins Clark


When Margaret and Steve Frawley come home to Connecticut from a black-tie dinner in New York, their three-year-old twins, Kathy and Kelly, are gone. The police found the babysitter unconscious, and a ransom note from the "Pied Piper" demands eight million dollars. Steve's global investment firm puts up the money, but when they go to retrieve the twins, only Kelly is in the car. The dead driver's suicide note says he inadvertently killed Kathy. At the memorial, Kelly tugs Margaret's arm and says: "Mommy, Kathy is very scared of that lady. She wants to come home right now." At first, only Margaret believes that the twins are communicating and that Kathy is still alive. But as Kelly's warnings become increasingly specific and alarming, FBI agents set out on a desperate search.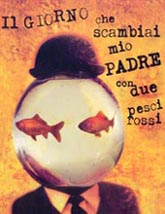 Il giorno che scambiai mio padre con due pesci rossi - Neil Gaiman
Cosa faresti se il tuo migliore amico avesse due pesci rossi così belli che daresti qualsiasi cosa pur di averli? Assolutamente qualsiasi cosa. Perfino tuo padre...
At swim, two birds - Flann O'Brien
A wildly comic send-up of Irish literature and culture, At Swim-Two-Birds is the story of a young, lazy, and frequently drunk Irish college student who lives with his curmudgeonly uncle in Dublin. When not in bed (where he seems to spend most of his time) or reading he is composing a mischief-filled novel about Dermot Trellis, a second-rate author whose characters ultimately rebel against him and seek vengeance. From drugging him as he sleeps to dropping the ceiling on his head, these figures of Irish myth make Trellis pay dearly for his bad writing. Hilariously funny and inventive, At Swim-Two-Birds has influenced generations of writers, opening up new possibilities for what can be done in fiction. It is a true masterpiece of Irish literature.
Two women - Martina Cole
Danger and violence have always been part of Sue Dalston's East End upbringing. Unloved by her mother, abused by her father, and brutalised throughout her entire marriage, she smashed her husband's skull in a final act of desperation. All that keeps her sane is knowing that she's done it to protect her four children. At last, they are safe from harm. When she is celled up with murderess Matilda Enderby, their fates become inextricably linked. And no one - least of all Sue - could have predicted the consequences...
Bitten in two - Jennifer Rardin
Jaz. Is. Pissed. She and Vayl had been operating like a couple of finely carved gears…until now. Just as they're arriving in Morocco to secure an ancient artifact that must carve the name of Jaz's possessor into the gates of hell if he's to be vanquished, Vayl wakes up calling Jaz by another woman's name. And it's not even a good one. But since any form of argument transforms Vayl into an unholy terror, Jaz is forced to play along until she and the gang can figure out what kind of power has so vastly altered his perceptions.